It's Q&A time my friends!  I've done this once before, and today I'm happy to be answering questions from Christy at Uplifting Families.  Check out Christy's blog for the questions I asked her, and of course, follow anyone and everyone though this question game we like to play on Fridays.  Unless you hate having fun on Friday…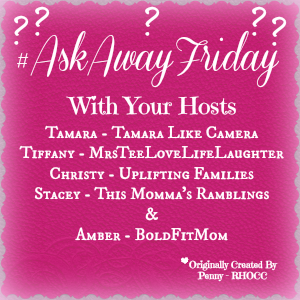 This is Christy
and these are the questions Christy asked me: 
1. How do you find time to train and raise your children?
I basically let them raise themselves, Lord of the Flies style.  Kidding!  I won't say how hard it is because I don't have a full-time job.  Yes, raising them is a full-time job but, I don't have a boss hovering over my shoulder, making sure I'm putting in my 40 hour work week.  The bottom line is I make training a priority over laundry, cleaning and making dinner, because I can.  I've also trained before the sun comes up while they're still sleeping, or (most often) when they're at school three days a week.  I also take full advantage of my YMCA daycare and I've been known to ask family to watch them so I can run or bike or both!  It takes a village.
2. I love your post "10 Things All Twin Mom's Know". I have fraternal twin sisters and people always ask how they can be twins if they don't look alike. What is advice do you have for mom's who just found out that they are expecting twins?
Ask for help!  Seriously.  I found that it was easiest to care for them (especially in the newborn stage) if you outnumber them.  You need two people, to each hold a baby and another to run interference.  I would also say to get ready to be blown away by what an amazing opportunity you have been given.  Twins are special, and I'm lucky to be here to watch mine as they grow!
3. I have seen a ton of controversy over parents using leashes on their kids. I remember when my twin sisters were old enough to walk they would both take off in opposite directions. The leashes were a must have if you wanted to get anything accomplished without them running off. Do you use leashes for your twins? If not, why?
It's funny you're asking this because it's definitely one of those things I didn't understand before I became a parent!  I was so judgy about the leashes!  I thought it was horrible for a parent to do it, and showed they're incompetence to be able to keep track of their own children.  What a fool!  Although I have never used leashes on the twins, they could certainly use them!  Now, when I see parents with them, I just smile and think "I get it."
4. I remember when I was growing up that my parents let me play outside unattended with my friend as long as I told her where I was going. I never let my kids go outside unattended, do you allow your children to play outside by themselves? If they are still too young, will you let them play outside when they are older by themselves?
I actually just wrote a post about this very issue.  I've been giving them a little more freedom outside now, but they're only five and I think that's too young to be completely alone.  They would probably end up hurt or hurting someone(thing) else!  As they get older I will definitely let them play unattended.  I think it's important for them to become responsible and to learn some lessons without mommy peering over their shoulder.  I'm also prepared for an emergency room visit at a moment's notice!
5. If someone wanted to start training for a triathlon, what advice would you give them?
Go for it!  Work on your weakest link, even though it's not as fun and, since it's your first one, it will definitely be a personal best, no matter what time you cross that finish line!
6. What is your go to meal when you are busy and have to get the family fed before bedtime?
Pasta!  Whole wheat of course, with roasted veggies or shrimp. My boys love pasta and they devour peppers and/or carrots too.  It's something everyone can have and, as an added bonus, there are usually leftovers for the next day.  Let's face it, most days I'm scrambling to get dinner done!  See #1
7. What is your favorite snack?
That is tough because I love to eat and I snack all.day.long.  My favorite right now are these whole wheat fig bars that are homemade from a local natal grocery store near me.  They have free wi-fii so I hang out there, blog and eat fig bars.
8. Do you encourage your kids to being active?
If they needed any encouragement, I would certainly provide it.  I have to actively discourage them from being active.  If anyone has tips on that, please let me know!
9. If you won a $500 shopping spree and you could only spend it on yourself, where would you go shopping and what would you buy?
I would shop for someone who would get my kids dressed in the morning, just one time.  I would actually pay someone at least $1,000 to do it.  The ideal candidate would have experience wrangling monkeys from trees and outfitting them in a three-piece suit, after they've been injected with adrenaline.  That scratches the surface of what my kids act like when getting dressed.
10. What is your favorite "me" time activity?
Aside from running and biking? Sitting on my back deck in the morning, with a steaming cup of coffee, and enjoying the quiet.  Perfection.
Answer any of the questions above or comment on my answers.  Go ahead – I can take it!